Blackjack Hits the Jackpot at Monte Casino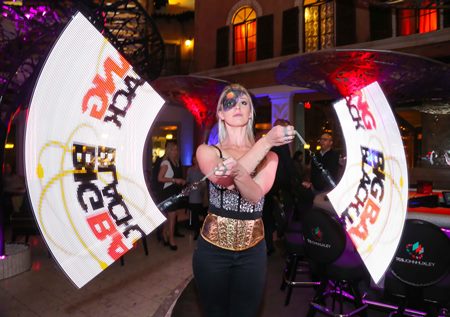 In a first for South Africa, Montecasino has launched Big Bang Blackjack, a new mystery jackpot bet that pays out between R5 000 and R25 000, along with two other jackpots. This addition to the Blackjack game is now available on selected Blackjack tables.
"Blackjack is one of our most popular games at Montecasino and we are delighted to be able to offer more thrills to the gaming experience with this new jackpot bet," says Glenn Joseph, General Manager of Montecasino.
On the Big Bang Blackjack tables, players place their Big Bang progressive wagers on the betting area in front of the bet box, which is indicated by a flashing pad, before the initial deal starts. Before the hand is dealt, players who have control of the main betting area have the option of placing a Big Bang bet in addition to their Blackjack bet.
The Big Bang bet is placed on the jackpot sensor disc corresponding to the player's Blackjack bet. The Big Bang bet offers the chance of winning one of three different jackpots – the Big Bang Mystery Jackpot, the Perfect Blackjack (Ace and Jack of Clubs), and any other Blackjack. All the Big Bang Blackjack tables have linked jackpots.
The Big Bang Mystery Jackpot is randomly triggered to any player who has placed a valid Blackjack bet and a Big Bang Jackpot bet – and pays out between R5 000 and R25 000. Players who are dealt a Perfect Blackjack win the second progressive jackpot and players dealt a suited Blackjack, excluding an Ace and the Jack of Clubs, will win the third progressive jackpot.
The initial wager is not returned when winning payouts are made and players lose their wagers if any other combination is dealt. The normal game of Blackjack continues once all the Big Bang wagers have been dealt with.
"Blackjack is great fun for anyone who can add up to 21 – and this new jackpot adds a higher level of excitement to the game," says Joseph.
Big Bang Jackpot was launched to media, celebs and players at an exclusive function at Montecasino this week, and looks set to be a winner for Gauteng's premier entertainment destination.
ISSUED ON BEHALF OF MONTECASINO BY STRATEGIC PUBLIC RELATIONS. FOR FURTHER INFORMATION PLEASE CONTACT (011) 672-2037 OR EMAIL admin@stratpr.co.za