Meropa Casino
Meropa Casino and Entertainment World is situated in the Limpopo Province, only 5km from the capital Polokwane (previously Pietersburg).
Polokwane means Place of Safety...and this is characterised by the Ancient Baobab trees which guard the vast expanses of mountains and bushveld. The Limpopo Province is a land of dramatic contrasts illustrated by the age-old indigenous forests, ancient mountain fortresses and luxury modern day facilities.
It is a land of legend and romance, that will intrigue visitors with tales of ancient tribes and fearless pioneers who braved the unknown in the days of old. To this day the province is the home of the enigmatic Rain Queen who, as the legend of her people proclaim, has the mystical power to make rain.
Much of the land is unspoilt, particularly in the Kruger National Park and other Game and Nature Reserves, which provide sanctuary to large numbers of game. For those who wish to experience the thrill of Africa in a more tangible style, Meropa Casino offers visitors a different adventure !
Click Here for the latest Meropa Casino Promotions at our Sun International Promotions Page.
Casino
Tables
17 Tables can be found throughout the smoking/ non-smoking casino floor and Kiba Salon Privè.
Table games include Blackjack and American Roulette with bets ranging from R5 to R50.

Tables open at 11h00 every day until late.
Slots
You will find 417 slot machines from the old favourites to all the latest releases.
The slots are suitable for any budget, from just 1c up to R25.
The casino floor remains open 24 hours a day.
KIBA Salon Privè
Platinum and Diamond MVG cardholders can enjoy exclusive gaming at this VIP Club.
Benefits include:
An elegant lounge to unwind with VIP gaming assistance.
Personal waiters, private restrooms, security, private entrance with a dedicated parking area and car wash facilities.
MVG Club ( Most valued Guests programme )
Regular Players become members of the Sun International Most Valued Guests Programme (MVG).
There are 4 levels of Membership - Silver, Gold, Diamond and Platinum.
Earn both Casino and Leisure Points when playing Slots, Tables, staying in the hotel, dining at selected restaurants and bars.
Tier Credits can be earned for spending across all Sun International hotels and casinos which offer a range of exciting benefits.
Restaurants & Bars
Harvest Grill and Wine
Order a perfectly seared steak with superior flavour!

WildThingZ Tea Room
Situated amidst the tranquillity of the Bird and Reptile park, the Tea Room offers a range of Sandwiches, Quiches, Scones and Muffins.
Jembe Tavern
Indulge in some traditional cuisine while enjoying live entertainment including cabaret, comedy and karaoke.

Ngoma Bar
The mystical myths of Africa pervade this bar and guests can relax enjoying a traditional African Morula cocktail, or tasting the Wines selected from the superior estates in Southern Africa.
Spas
House of Asante Spa
Indulge in a therapeutic body and soul pampering experience in a relaxed and soothing environment.
The word 'ASANTE' is from the KiSwahili language meaning:
"Thank you, Re a leboga, Siyabonga, Rolivhuwa, Ha-nkhensa, Dankie"
Hotel
Meropa Hotel
The 3 Star Meropa Hotel invites guests to escape into a world of Moroccan-inspired grandeur.
The rooms were designed to offer superior comfort and convenience.
 This highly rated hotel comprises 54 standard rooms and 6 suites.
Facilities include Continental Breakfast, Free Wi-Fi, Satellite TV, In-room Coffee /Tea
Entertainment
Cultural Fair and Market
Curios and traditional African crafts are provided by local Artists. There are four huts within the Crafts Market and they feature the impressive and colourful crafts and artefactsof the Northern Sotho, Shangaan (Tsongo), Venda and Ndebele tribes.
Visitors can take home an ostrich egg decorated with beads, a beadwork book marker or even a beadwork broom.
Magic Speedway
There are two Go-Kart tracks, the faster track is for adults and the more sedate track is for children. Formula 1 aspirants will love this form of entertainment.
Amphitheatre
The Amphitheatre overlooking the magnificent WildThingZ gardens, has entertainment every Weekend and Public Holidays. The Performances are varied and can range from a Musical Concert to Tribal Dancing.
WildThingZ
WildThingZ comprises the Bird and Reptile Parks as well as the Butterfly Park and Insectarium.
Hours of entertainment for young and old, with numerous Displays and Information sessions. There are over 200 magnificent indigenous species of Bird life all contained in an enormous beautifully landscaped enclosure.
The Butterfly Park is the first of its kind in South Africa and houses 30 different species of indigenous Butterflies. The centre is unique because it's the only facility in the world that caters for indigenous species' only.
In stark contrast to the tranquility of the Butterfly and Bird Parks, the Bird of Prey Centre, has a rapturous fascination of its own. It is home to Africa's largest Eagles and other amazing raptors, including the fastest bird in the world - the Amazing Peregring Falcon.
In addition to the amazing WildThingZ, there is also an Outdoor Facility with two Go-Kart tracks, and an Adventure Golf Course.
ChildCare
There are wonderful play facilities especially for children.The Magic Company has an indoor Arcade featuring over 50 of the latest hi-tech Video Games and Simulators available. Players can win redemption tickets which can immediately be exchanged for prizes at the Prize Shop.
The Magic Company imports and stocks all the trendiest Toys and Educational games. Kids also have the option of saving up these tickets so that they can claim an even bigger prize at their next visit.
In addition to providing a range of entertainment for children, there is also a Supervised Crèche for babies and younger children.
Conference
Catering for a wide range of events ranging from Fashion shows, Product Launches and Conferences. Due to the unique location and the myriad activities that Meropa offers, the Conference facilities are in demand by Professional Conference Organisers and Event Managers.
The Conference Centre can seat a maximum of 600 Delegates Cinema style, and is fully equipped with all the latest audiovisual presentation equipment. An additional 4 Breakaway rooms complement the main conference centre. One of the breakaway rooms is a fully modernised executive boardroom. The other 3 rooms are ideal conference/presentation venues and can accommodate 20 people each.
Contact
Physical Address:
Meropa Casino and Entertainment World
Plot 59 Sterkloop
Roodepoort Road
Polokwane
Limpopo
0700
Telephone: +27 15 290 5400
Fax: +27 15 290 5401
GPS Co-Ordinates: 23° 56' 37.5786" S 29° 25' 22.8642" E
King Billy Casino is Now Offering Deposits in Rands for South African Players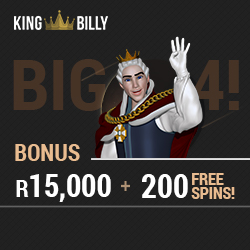 We are very pleased to announce that King Billy Casino is now open to South African players and are accepting deposits, wagering and withdrawing in Rand currency.
These guys have an excellent reputation and have won many awards within the industry, as they have kept their nose clean from day one. For starters they have a huge selection of casino games, and we mean a HUGE selection - We actually tried to count them but eventally gave up as there was just too many. The point is that you will never get bored if you play at King Billy Casino!
They also offer multiple languages, currencies ( including Bitcoin ) and deposit options.
New players from South Africa canclaim R15 000 worth of welcome bonuses plus up to 200 Free Spins...and did we mention payouts take less than 2 hours?!
Why not give them a try today? You won't be disappointed.
Go to King Billy Casino Now to Play in Rands