Online Gambling for Beginners
You have decided to try online gambling, but don't know where to begin...
(These guidelines refer to a Microgaming Casino, However most casinos follow a similar procedure )
How to Download
To download the FREE software click on the " Download "
A page will appear stating that your "Download will start shortly"
Once the download commences, a percentage indicator will appear in the bottom right hand corner
informing you of the progress of your download.
How to Install
After completing the Download you will need to Install the software (You must remain connected to the Internet).
A dialog box will appear stating "Initializing Wise Installation Wizard"
Another box called "Install Wizard", which will guide you through the installation process step-by-step.
You will need to select "Next" four times, and then select "Finish".
A dialog box will appear showing the percentage progress of the installation.
Another box will appear informing you that the casino has been successfully installed". Click "OK".
The software will launch automatically. Now you can register an account.
How to Open an Account
As the software launches the "Online Registration Wizard" will appear.
Decide if you wish to open a REAL account (play for real money) or a GUEST account (play for fun).
Once you have selected the correct option, you will be prompted to fill in the online questionnaire.
When you have finished the questionnaire a "Registration Complete" box will appear, giving you your account number and password.
Keep these somewhere safe!
---
King Billy Casino is Now Offering Deposits in Rands for South African Players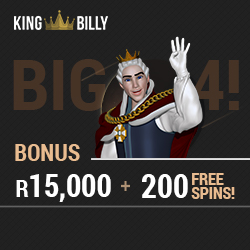 We are very pleased to announce that King Billy Casino is now open to South African players and are accepting deposits, wagering and withdrawing in Rand currency.
These guys have an excellent reputation and have won many awards within the industry, as they have kept their nose clean from day one. For starters they have a huge selection of casino games, and we mean a HUGE selection - We actually tried to count them but eventally gave up as there was just too many. The point is that you will never get bored if you play at King Billy Casino!
They also offer multiple languages, currencies ( including Bitcoin ) and numerous deposit options.
New players from South Africa can claim R15 000 worth of welcome bonuses plus up to 200 Free Spins...and did we mention payouts take less than 2 hours?!
Why not give them a try today? You won't be disappointed.
Go to King Billy Casino Now to Play in Rands

---
How to Make a Purchase
When you select the REAL account option, you will now need to make a purchase to continue.
A dialog box will appear stating, "You currently have no credits to play with.
Would you like to go to banking to purchase credits?". Select "Yes".
You will now be at the "Banking Menu".
In the "Banking Menu" select "Add Credit card/Firepay/Neteller etc"
You will need to fill in the "Personal Billing Details" questionnaire
Once you have finished , a box will appear informing you "Your card has been successfully registered at the Casino".
It will then indicate your card limit.
Click on the arrow to the left of your card number and select the amount that you wish to purchase.
Confirm your purchase by selecting "Yes" or "No"
A box will inform you "Please wait…purchase pending"
Next, an "Online Banking Box" will appear stating "Your purchase has been approved "
Now you can exit banking, return to the casino and start playing! Good Luck!
How to Play
Once you are ready to play, go to the casino menu, and click on the button for the game of your choice - scroll for more games
A dialog box called "Starting Module" will appear, indicating the progress of the game's download.
If this is not the first time you have opened the software it should take a couple of seconds.
If this is the first time you are opening the software you will see that below each game button the text "CLICK TO DOWNLOAD" will be visible in white text.
As soon as you select the button the game will start downloading.
A "Starting Module" box will indicate the progress of the download.
While you are busy playing the selected game, the other games will download in the background.
By the time you exit the game you are busy with, the rest of the games should have finished downloading
How to Log On
The software will be stored on your desktop.
To access the casino, " Casino" icon on your desktop.
The software will launch and a box with the Casino's logo will appear informing you - "Loading software…Please be patient"
The casino menu will then appear, click on the "CONNECT" button and enter your account number and password.
How to Cash-In
Go to the "Banking Menu" by selecting the "Bank" button (the purple button above the HELP button).
Select the "Cash-in" option
Select the amount you wish to cash in
Confirm the amount by selecting "Yes" or "No"
You will be informed that your cash-in is being processed
Please note that your cash-in will be transferred to a pending period of 24 to 48 hours. ( depending on the casino )
During this period, you may reverse your cash in for future play, without having to purchase additional credits.
This can be done by clicking on the "REVERSE CASH IN" button in the banking menu.
On expiry of this period, the cash-in will be processed and you will receive an email confirming the allocation