Morula Sun Casino
NB Morula Casino has Closed Down
Morula Casino ( also known as Morula Sun ) is a Sun International resort located in Mabopane which is located North West of Pretoria.
Morula Sun Casino
The Casino is the main attraction at Morula Sun and has over 500 slot and video poker machines and more than 12 table games.
As Morula Sun is a Sun International casino - they use the smart gaming card system which means you know longer have to get your hands dirty by putting coins into the machines.
They have a huge range of gaming machines of different denominations and varieties, and quite a few high roller rooms for the top end gamblers and of course MVG lounges for their special MVG guests.
Latest Morula Sun Casino Promotions
Click Here for the Latest promotions at Morula Sun Casino
Activities
Situated between the rooms and the dam with a Specific route to follow
Various Bird species
Open not enclosed
Business Centre
Situated on the banks of the Nooitgedacht Dam
with internet access
Entertainment
For jazz lovers from far and wide, Lethabong is a way of life for many guests. From live musicians to the jukebox, the rhythmic sounds of jazz-fusion are bound to relax you. Or get a drink from the bar, play pool or watch the big game on big-screen plasma TVs.
Conference
50 guests. Fireplace in the centre Enclosed
Outdoor venue - Suitable for themed summer parties Permanent bar
120 guests Big screen and stage Juke box
Permanent bar
Overnight Full day conference packages
Mabopane Room
The Mabopane Room is located in the Hotel Gardens and caters for up to 250 delegates.
Club 7 Arena
The unique Club 7 Arena is suited to Concerts and Banquets and can accomodate 350 people seated cinema style and 200 people for a banquet dinner. Use of Conference equipment is included in the Banqueting Packages.
Morula Restaurants
Calabash Restaurant
The Calabash Restaurant is an African themed restaurant that offers a buffet style menu and a la carte. They have a huge selection of traditional african dishes and great salads, carvery and desserts.
Razoos
A classy bar that has a wide range of entertainment from comedy sessions to jazz and live performances.
Child Care
Kamp Kwena is a childrens entertainment program which will keep the kids occupied with many activities including the Magic Company Arcade, Volleyball, mini golf, waterworld, jungle jim and swimming.
Morula Casino & Hotel
Morula Casino & Hotel has a total of 73 Suites including a Presidential Suite.
The rooms are comfortable and spacious,, decorated with warm, rich, soothing colours, in muted shades and earthy tones. Each room overlooks the beautiful Morula Gardens and Pool.

New RTG Casino in SA. Click Here to Get 50 Free Spins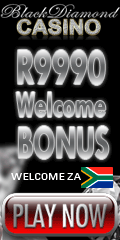 Play Online Casino Games at Black Diamond Casino