Take Five with Bingo
Bingo is an enjoyable game to play if you've got five minutes to fill while you're waiting for a friend or you're at home with no particular plans for the evening. It's a great game to play as it moves so quickly, it's cheap to play and there's always a game on somewhere when you feel like playing.
Most people play on bingo sites but you can also play bingo on social networking sites like Facebook or on a mobile phone app.
For those times when you want to spend a little longer than five minutes on bingo, it's probably best to play on one of the main sites. There, you get the best variety in games, including a range of different card prices and jackpots to play for. You also get the social side of bingo – chatting with other players online while you're all watching your cards getting marked off as the numbers are called out.
So why is bingo so good for a way to kill time? It's easy to play for starters. You don't need to learn the rules or develop a strategy. All you need to do is buy a card (if you're playing for cash) and then wait for the game to start. Bingo sites have games scheduled all through the day and night, so there's never a time when you'll need to wait more than a couple of minutes for a game.
And considering the prize values, bingo is a really cheap game to play. Even more so now, as so many bingo sites run regular free games with great cash prizes too. You can play for real money or for free, depending on the state of your bingo account!
For most bingo players, it's the entertainment aspect of the game that keeps them coming back for more. People don't start a game really focusing on whether they'll win or not, but there's always the chance that they will. So it makes each game really exciting, not knowing if today will be your lucky day or not.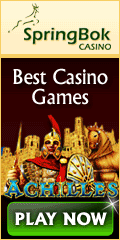 Play RTG Slot Games at Springbok Casino